MBA (ITBM) Orientation and Pedagogy
Learning Methodology
SCIT strives to make a paradigm shift from exam orientation to knowledge orientation. SCIT believes in the practice of consolidation wherein the core elements of academic rigor and academic discipline are closely knitted by research, student orientation, brand-building, corporate interface and process automation. To realize this shift SCIT has taken several steps on curricula review and development, student and faculty orientation. Faculty members are oriented towards creating evaluation methodologies from concept-building through application development and not necessarily just elaboration on theory. SCIT emphasizes that academics should trigger research and research should drive academics.
At SCIT a semester pattern, that is, 2 terms per academic year is followed. At the beginning of the term, the syllabus along with the names of reference books, authors and the evaluation policy is communicated to the students. No text books are prescribed as students are expected to explore and learn by referring to books, implementing concepts in the labs and collecting references from the Internet, analyzing and problem solving through case studies etc. SCIT also has a digital library with a spectrum of e-books and magazines. SCIT's evaluation policy has external as well as internal evaluation. The internal evaluation is carried out continually and consists of any combination of several components such as projects, lab tests, presentations, whitepapers etc. The main objective here is to evaluate learning.
Internships
Internship in the industry is an integral part of the 2-year academic programmes at SCIT. It provides excellent opportunities for SCIT students to get a first hand experience of business realities. Before working as interns, SCIT students work on pilot projects, a replica of what happens in the industry. This enables them to make a quick start in learning from the "LIVE" environment during an internship project, a new perspective that a classroom cannot generate. In the past, most of the SCIT students have worked with reputed companies and have contributed significantly; some have even traveled abroad for live projects.
Projects
Collaborative Projects
SCIT makes a conscious effort in tracking technology advancements and transformations that businesses are going through. The students as well as the faculty of SCIT undertake various industry projects as well as R & D projects that cover this area of study.
In year 2007 and 2008 SCIT students have carried out successfully a project "AMDEST" A Metrics Driven Enterprise Software Tool. AMDEST is built around the idea that enterprise software development can be guided by the use of simple, intuitive metrics that help understand the effects of changing requirements, offer insights into how responsibilities are delegated to software components etc.
Twelve students from Software Solutions Management specialization worked in two batches with the doctoral student of Florida State University to complete this research project. The project mainly focused on analyzing the impact of change in requirements on software already built.
Research and Development Projects
Research orientation is an important part of learning at SCIT. Students need to register and work on a dissertation. SCIT presently works in these broader areas of research.
Multi-faceted Learning
At SCIT we believe in the new realization that exams are only a purpose of learning and true learning is actually a journey to explore knowledge. SCIT looks at postgraduate education with a view to create 'learnability' in a student that stays with him life-long and does not wither with a degree in hand. SCIT lays importance on a student's all-round development with a focus on academics as well in all its residential programmes. The holistic programmes build strength and create a framework to enjoy life as professionals and as individuals. Self-exploration through programmes such as 'Moral Re-Armnanent Camp (MRA)' is encouraged.
SCIT's Power Triangle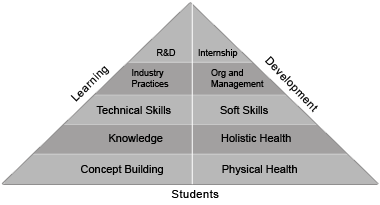 At SCIT, students undergo a transformation into empowered proactive professionals through a three-fold learning process: gaining experiential knowledge of technology and practices, mental and physical well-being through a holistic health programme and industry practices. SCIT offers residential and off-campus programmes as well as corporate training programmes.
RITS University Collaboration
Ritsumeikan University and SCIT - SIU have agreed to collaborate in:
Academic and research collaboration in areas of mutual interest.
Exchange of academic information, scholarly information, material and publications.
Exchange of students and faculty. Joint seminars, workshops and other academic meetings.