Location: Virtual platform- Zoom
Duration: 10 AM – 1 PM
In these challenging times where we have coming a long way battling the pandemic, one thing that time has taught us is that its is our strong style="font-size: 15pt;" will and bravery that gets us through. With this spirit TEDxSIUHinjewadi 2022 had its Eighth Edition based on the theme "Valiant Vox". The event was hosted virtually under the guidance of Prof. Apoorva Kulkarni. The event comprised of talks and performances by esteemed dignitaries. All of them were based on the theme which translated to "Brave your voice amongst the chaos". It is necessary to be brave, be valiant and follow the voice, the vox that appeals you and your goals.
The event was hosted by the TEDxSIUHinjewadi team starting with the warm welcome speech, a short expression by the Curator and Co-curator and then playing the Official TEDx Introduction Video. This was followed by the insightful words of our esteemed Dy Director, Dr. Kanchan Patil.
Platform: Zoom
Duration: 3 hrs
Attendees: 239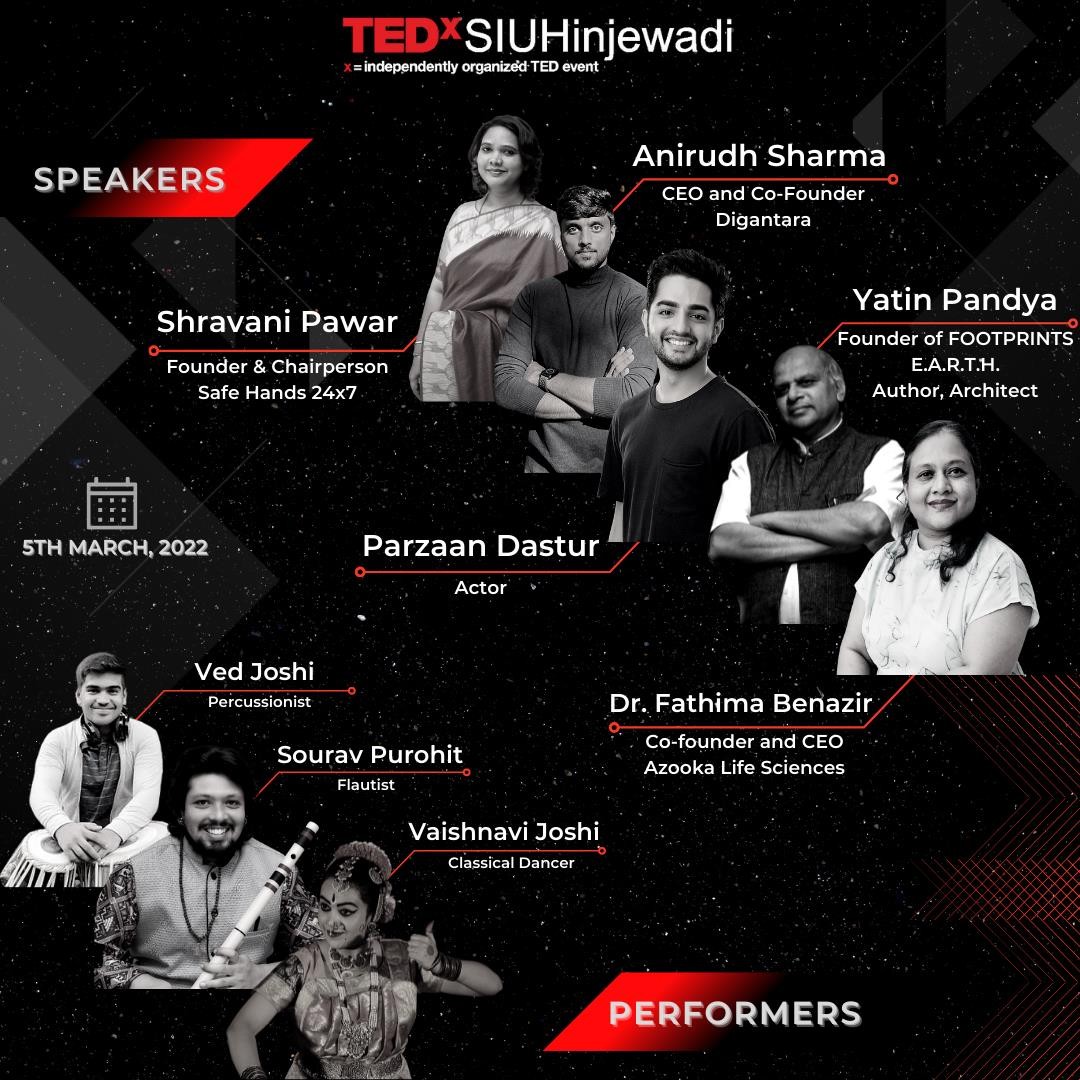 The Speakers for the day were: Mrs. Shravani Pawar Founder of Safe Hands 24x7, Mr. Yatin Pandya who's an author, activist, academician, architect and owner of FOOTPRINTS E.A.R.T.H, Dr. Fathima Benazir Chief Scientific Officer and Co-founder at Azooka, Mr. Anirudh Sharma CEO and Co-founder of Digantara, and Mr. Parzaan Dastur who's an actor and writer.
In addition to these great speakers, the event was graced by the performers- Mr. Ved Joshi the Percussionist, Ms. Vaishnavi Joshi the Bharatnatyam dancer, and Mr. Sourav Purohit the Flautist.
Event Partners
We collaborated with three enterprises as our event partners, the details of which are as follows-
All about DESSERTS
Naagin Sauce
Pilao Premium Coffee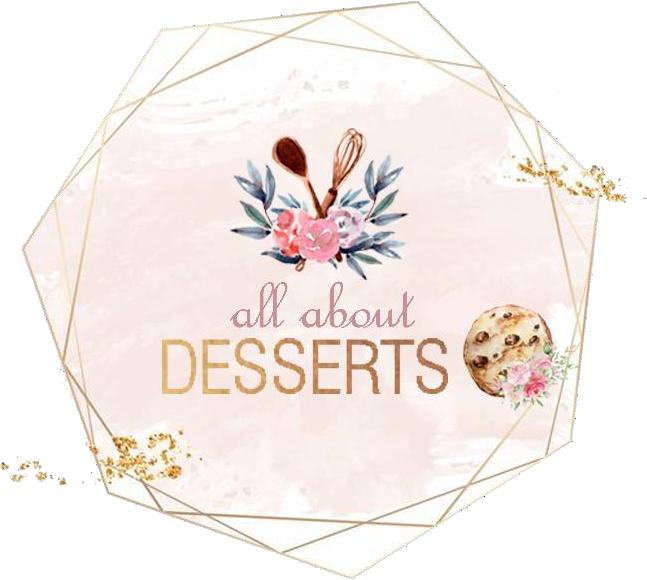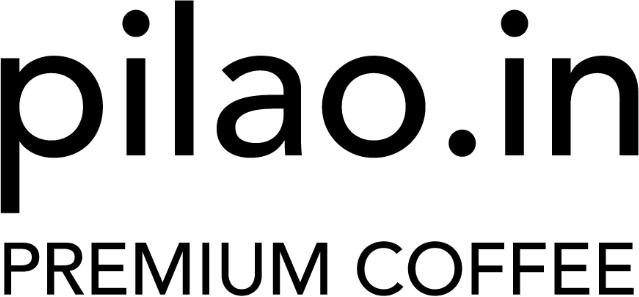 Promotions & Media
The Web and Media Team lent a helpful hand for all the promotions and marketing, contributing to an exponential increase in social media engagement. The TEDxSiuHinjewadi 2022 event was put across social media channels viz. Instagram, Facebook, and LinkedIn. A lot of engagements with prize distribution social media drills were performed to guess the speakers and their companies that added a plus point in the presence of TEDxSIUHinjewdi on social media. The follower count shot up to a whopping 983. A Theme video was created by the team to promote the Theme Launch and to give a kick start to the event on D-Day.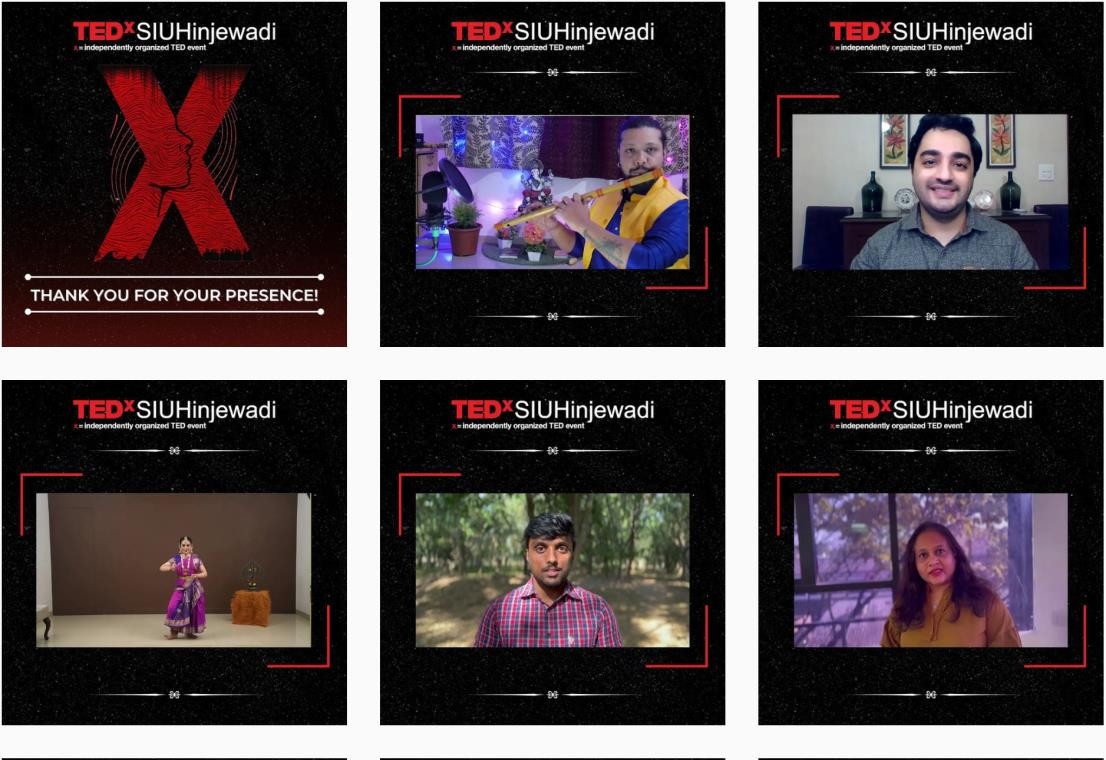 Communications
The communications were carried out efficiently by the Email handling team that included correspondence with students, faculty, speakers, performers, and all the event-related information, inquiries were proactively entertained in time. A Thank you note to all the Audience, host, and members who were floated for being a part of the event.
Links to Visit
Facebook:
http://bit.ly/fbTEDxSIUHinjewadi
Instagram:
http://bit.ly/instaTEDxSIUHinjewadi
LinkedIn:
http://bit.ly/lnTEDxSIUHinjewadi