Internationalization in higher education is one of the unique way to respond to globalization. It remains one of the important agenda in higher education. Internationalization in higher education is not a goal or target to achieve but is a way to enhance the quality of education. The objectives for Internationalization are as follows:
Research being the core of higher education promoting more research in related fields
Creation of new Knowledge, its application.
Socio-cultural equality.
Providing opportunity for global recruitment.
SCIT is also actively involved in collaborations with international universities and corporations. Over the past seven years, SCIT has initiated several international exchange programmes and industry partnerships. We are associated with Ritsumeikan University and Fujitsu Corp to equip the students with research/industry internship opportunities in Japan. Not only students but also Teaching fraternity in SCIT are facilitated for global exposure by way of teaching, joint teaching and research. Apart from collaboration with various universities aboard we also have academician of different universities coming and sharing their knowledge, experience and pedagogy. Senior Professors from SCIT also involved in training in corporate as well as international universities.
Student Exchange - Ritsumeikan University
From the batch 2017-19, three students, Divya Nadar, Saikat Ghosh and Soumya V Ganesh, did their Summer Internship at Ritsumeikan University, Japan. The three of them worked on individual research projects, mentored and guided by their respective professors at Ritsumeikan from April 2018 to June 2018. Divya Nadar worked under Prof. Atsushi Ohnishi, as a part of the Software Engineering lab. Her research topic was "Analysis of Scenario using Controlled Language". Saikat Ghosh worked on 'Multi-Level Prediction of Type-2 Diabetes Using Stacked Generalization Ensemble Technique'. Prof. Hideyuki Takada mentored him on his research. Under the guidance of Prof. Hiromitsu Shimakawa, Soumya V Ganesh worked on 'User Perceptions on Data Privacy and Security - A case study on Aadhaar', in the Data Engineering lab at Ritsumeikan. The students got an opportunity to visit the Panasonic office at Kyoto and Yanmar Musuem at Shiga, as part of an industry visit. The students also got the privilege of presenting their research topics to the senior officials at Panasonic.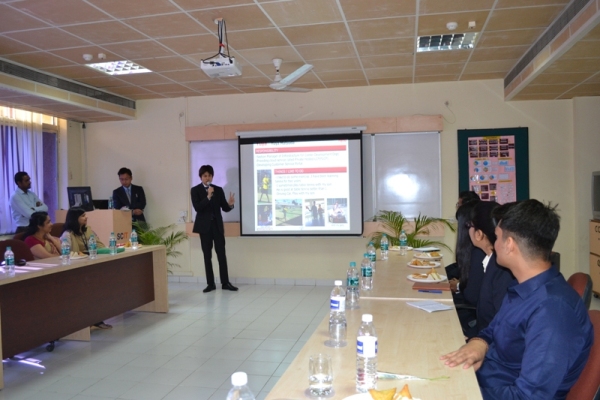 International Industry Internship - Fujitsu Corp
Three students were part of the industry internship at the Fujitsu Corp in Japan. During the 2-month internship, the students worked in 3 different domains. Priyanshu Upadhyay from MBA-DSDA worked in the domain of Environmental and Science System, Singh Shruti Shyamashanker in worked for Distribution Systems, and Bithal Kumar Agrawal in Security Service Department.
A team from Fujitsu, Japan visited SCIT on 12th December 2017 for formal interaction with students visiting Japan. They discussed about Fujitsu products and series related to Infrastructure Management Services, System Integration Services and Cloud Services. On 19th January 2018, when Fujitsu Japan team visited again, the agenda of the meeting included discussions on the future of IT in Japan and presentations from SCIT students on IoT and AI from an Indian standpoint.
Niraj Desai, from the 2016-18 batch of SCIT, received a PPO and joined Fujitsu in June 2018.