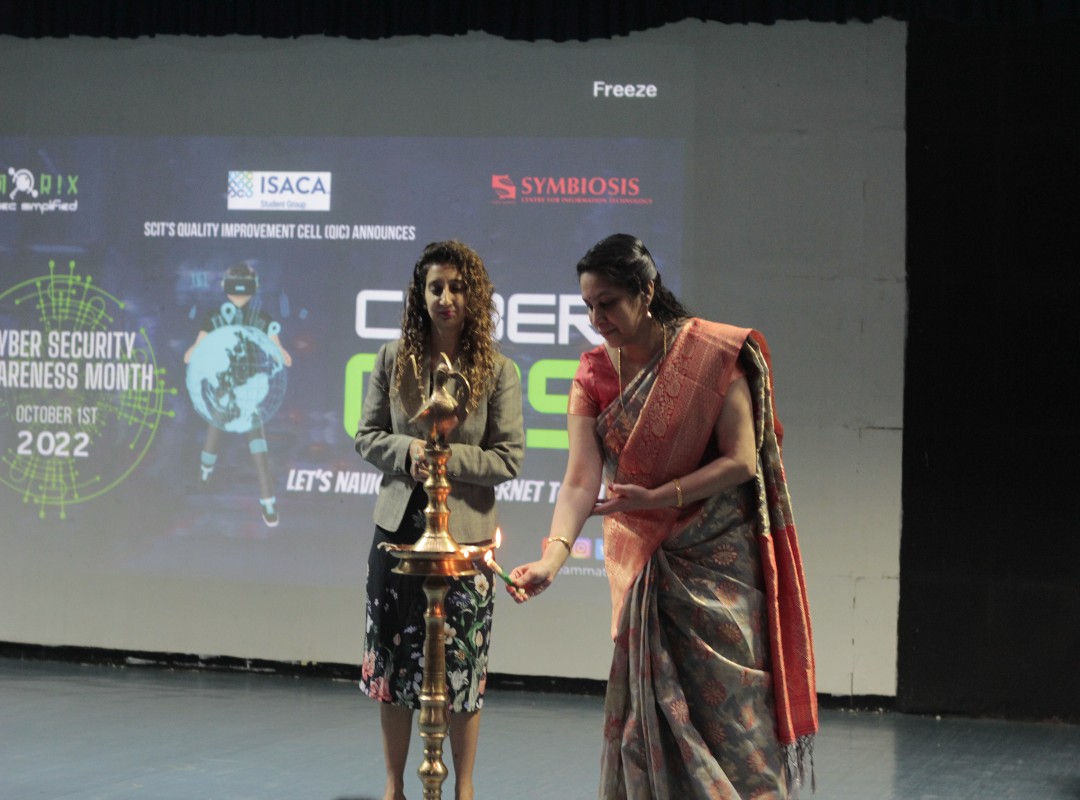 Cybersecurity Awareness Month, every October, is a collaboration between government and private industry to raise awareness about digital security and empower everyone to protect their personal data from digital forms of crime. The month is dedicated to creating resources and communications for organizations to talk to their employees and customers about staying safe online.
Now in its 19th year, Cybersecurity Awareness Month continues to build momentum and impact co-led by the National Cybersecurity Alliance and the Cybersecurity and Infrastructure Agency (CISA) with the
On 1st October 2022, we Team Matrix of Symbiosis Centre for Information Technology organized our flagship event, "Cyber Security Awareness Month (CSAM)." The CSAM theme for this year is "Cyber GPS (Guide, Protect and Secure) - Let's navigate the internet together."
About the theme:
This year's CSAM theme Cyber G.P.S (Guide. Protect. Secure) aims to prepare everyone for taking proactive measures to safeguard their data and safely navigate through the internet.
Today's industry cannot approach cybersecurity in the same way as it used to do a few years ago. There are much too many devices and related difficulties. Consider keeping track of security alerts for millions of internationally connected devices. IIoT devices lack the computational capacity necessary to run security solutions due to their low computing power.
AI and machine learning are useful in this situation. In the absence of security teams, ML can fill the gap. In the course of processing a lot of data, AI can assist in locating devices and hidden patterns. ML can assist in keeping track of incoming and outgoing traffic to look for any irregularities in the IoT ecosystem's behavior.
Keynote Topic:"Defining the Convergence of Artificial Intelligence and Cyber Security"
which will be focus on how Artificial Intelligence and Cyber security can converge on broader perspective we shall highlight the importance of emergence of Artificial Intelligence, how it can be used as a weapon, and as a tool in cyber security defense.
Symbiosis Centre for Information Technology
Mrs. Alisha Sharma,
Engineering Manager - Enterprise Compliance and Risk, John Deere
A seasoned information security professional with 16 yrs. of cyber security experience. Worked in various industries including banking, manufacturing and IT consulting services. Has worked with various leading organizations including Infosys, Royal Bank of Scotland, Paladion Networks and most recently John Deere.
This was a very interactive talk that ended with a Q & A session. Later the Key speaker was felicitated by Dhanya Ma'am, with the college memento, a sapling of Zizi plant and a smile our speak took the leave.
Panel discussion topic: Protecting your data in times of constant connection.
Cyberattacks are pervasive and are often regarded as one of the most tactically significant risks confronting the world today, with increasingly sophisticated cybersecurity attacks when we are constantly connected to the internet.
Ravi Verma
Director, Technical Support, Druva
Shivakant Pandey
Director, Technical Support, Dhruva
Vashishtha Chawla
Assistant Vice-President, Merkle Sokrati
Shivani Sharma
Founder, Kleap Technologies
Moderator
Mr. Akashdeep Singh Makkar,
Oracle CX Manager, PWC
The discussion went on for around one and half hour giving great insights to the students this was also a very interactive session as the moderator carried the discussion progressively in well structured manner.
So far, the event being successful Mrs. Kanchan Patil, Deputy Director presented the vote of thanks.