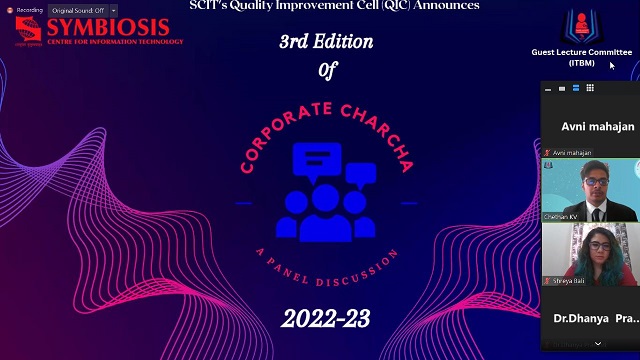 0n 26th February 2023 SCIT GL committee successfully conducted the 3rd annual Corporate Charcha, A panel discussion on the topic of Datafication: A New Paradigm Spanning the World'. 'Corporate Charcha' aims to bring together industry leaders and domain experts who could motivate and enlighten our students on topics relevant to the industry. It is going to be an enthralling yet informative discussion that will also act as an open platform for the students to put forward their queries and be at par with the current happenings in the industry.
Datafication is the transformation of social action into online quantified data, thus allowing for real-time tracking and predictive analysis. It involves converting previously unseen processes or activities into data that can be recorded, monitored, analyzed, and optimized. The most recent technology employed has made it possible for many new ways to "Datify" our routine actions. So, the term "datafication" describes how routine interactions between living things can be converted into a data format and applied to society.
We had eminent speakers from the industry who are practicing Data Scientists.
1. Mr. Divij Bajaj is an SCIT DSDA alumni of the 2019 batch who is currently working at Microsoft in Cloud and AI where he is developing Machine Learning/Deep Learning models for the shareholders.
2. Shreya Bali holds bachelors in law and holds a master's degree in public policy and governance. She is currently working as a research assistant for law and tech policy at IT for Change, a civil society organization that works in the intersection of technology, social justice, and human rights.
3. Balvinder Khurana is a Principal Data Architect and Global data community Lead at Thoughtworks Technologies. Her technical skills lie in big data technologies, complex systems architectures, distributed computing, and backend development.
4. Rakesh Rajendran was the Country Head for Saama Analytics which is a Data Analytics Platform Company focused on expediting Clinical Data Management using Advanced Analytics. Currently, he is a Startup Entrepreneur focusing on Cloud Data Analytics. He is also a US Patent Holder on Distributed Workflow Systems.